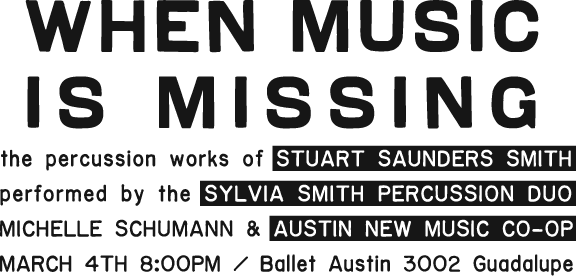 On March 4th The Austin New Music Co-op will present a concert of imaginative music by one of the United States' most important and singular voices in American music, Baltimore composer Stuart Saunders Smith. The Sylvia Smith Percussion Duo and pianist Michelle Schumann will perform percussion and theater pieces alongside members of the Austin New Music Co-op in a wide ranging program of experimental music composed in the last quarter century. The composer will be in attendance for the concert.
NMC PRESENTS: WHEN MUSIC IS MISSING...
THE PERCUSSION MUSIC OF STUART SAUNDERS SMITH
SATURDAY, MARCH 4TH, 8PM
BALLET AUSTIN ACADEMY (3002 GUADALUPE ST)
TICKETS: $8 IN ADVANCE AT END OF AN EAR
$10 AT THE DOOR, $7 STUDENTS AT THE DOOR

About the Concert

About the Workshop

About Stuart Saunders Smith

About the Sylvia Smith Percussion Duo
This project is funded in part by the City of Austin through the Cultural Arts Division and by a grant from the Texas Commission on the Arts.