AUSTIN NEW MUSIC CO-OP PRESENTS CAGE'S SONG BOOKS
An Evening of Musical Happenings
The Austin New Music Co-op proudly presents John Cage's landmark composition, Song Books: Solos for Voice 3-92, on May 21. In this, the New Music Co-op's first program of vocal music, ten Austin-area musicians (five vocalists paired with five electronic artists) began working early this year. In addition to solo vocal performances, the program will feature voices modified or accompanied by electronic devices ranging from laptop computers to vintage reel-to-reel tape recorders. Other solos involve the extreme amplification of typewriters, checker boards, table tops and even the sound of swallowing.
AUSTIN NEW MUSIC CO-OP PRESENTS:
JOHN CAGE'S SONG BOOKS: SOLOS FOR VOICE 3-92
SATURDAY, MAY 21 8:00 PM
AMLI DOWNTOWN APARTMENT BUILDING (201 LAVACA ST)
$10 ADMISSION - ADVANCE TICKETS AVAILABLE AT WATERLOO RECORDS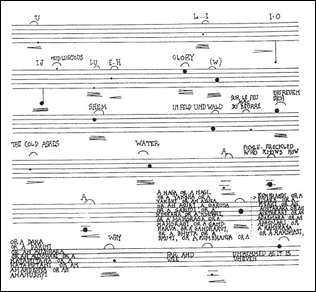 The NMC performed over a dozen works by John Cage last year during a three-night series of concerts featuring music by the New York School composers. This year's presentation is unique in its specific exploration of Cage's vocal music and "happenings" (events and situations intended as art). Though the piece is subtitled Solos for Voice 3-92, roughly one third of the 90 solos is performed without vocalization or sound production.
"This is an enormous composition: it contains 90 solos of wildly differing styles," explains Brandon Young, the local experimental vocalist who organized the concert. "One of the biggest challenges for each of us has been simply deciding which of them we'll perform."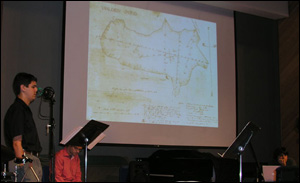 Each pair of musicians has independently chosen which solos to perform, and the pairs will perform simultaneously, without interaction. Cage instructs that a performance of the Song Books may include any number of the 90 solos, even none. Therefore, it is likely that some solos will be repeated and some will go unperformed.
The audience will be encouraged to move freely through the spacious hall, taking in the events from various locations. Evidence suggests that this will be the first performance devoted to the Song Books in Austin.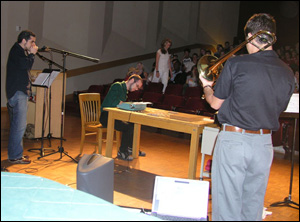 Cage determined virtually every aspect of the piece, including the number of solos, their composition and their notation, using the random chance of the ancient Chinese divination technique, I Ching. He designated each of the solos as either "song" or "theater." Examples from each category range from the ordinary to the inexplicable.

Song Books defies precise description: it must be experienced to be understood. In Cage's own words, "To consider the Song Books as a work of art is nearly impossible. Who would dare? It resembles a brothel, doesn't it?"