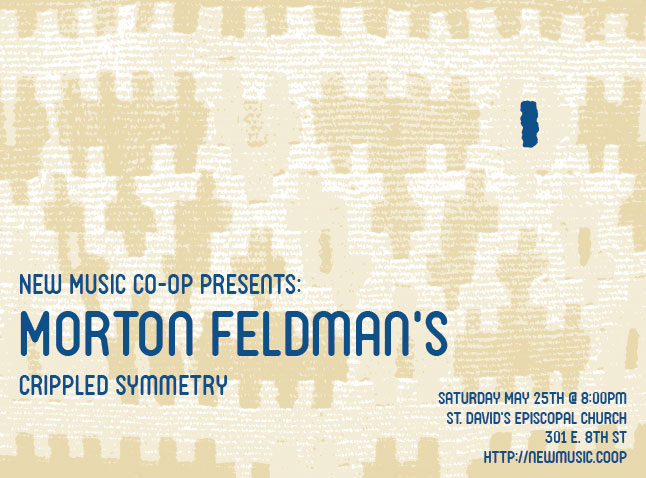 Austin New Music Co-op presents: Morton Feldman's "Crippled Symmetry"
90-minute trio is a rarely performed masterpiece of the 20th century
NMC Presents: Morton Feldman's "Crippled Symmetry"
With Special Guest Luke Hubley (Houston, TX)
Saturday May 25th @ 8:00pm
St. David's Episcopal Church
301 E. 8th St.
Advance tickets available now at http://nmcplaysfeldman.eventbrite.com/
$12 student/advance and $15 at the door

NMC is proud to present one of the landmarks of 20th century music by one of the most beloved and influential composers of our era, Morton Feldman. A member of the New York School of composers (led by John Cage), Feldman pioneered a unique style of composition that slowly and quietly evolves and unfolds over extremely long periods of time. Inspired by the subtly changing patterns in Turkish rugs and the rectangular fields of light and color of painter Mark Rothko, "Crippled Symmetry" (1983) is a 90+ minute trio for flute, piano and percussion. Performed by NMC members Sarah Dutcher (piano), Nick Hennies (percussion), and Francois Minaux (flutes), "Crippled Symmetry" is a vast, seemingly infinite sound world comprised of dozens of asymmetric recurring patterns that coalesce into a floating, cloud-like whole. While remaining a massive influence on contemporary music, Feldman's late work is rarely performed; this event will be the first performance of a major Feldman work in Austin in well over a decade.
In stark contrast to "Crippled Symmetry", the program will begin with a performance of "The King of Denmark" (1964) by Houston percussionist Luke Hubley. While still maintaining Feldman's signature quietude, early Feldman work involves experiments with non-traditional "graphic" notation as well as indeterminacy. "The King of Denmark" is composed on a graph and while the order of events is fixed, the choice of instruments/sounds is left largely to the performer so that each version of the piece has the potential to be drastically different from any other. Feldman composed the piece in a single afternoon while sitting on the beach at Coney Island; the distant sounds of the percussion having been inspired by the distant noise of the city as heard from the beach in mid-afternoon.