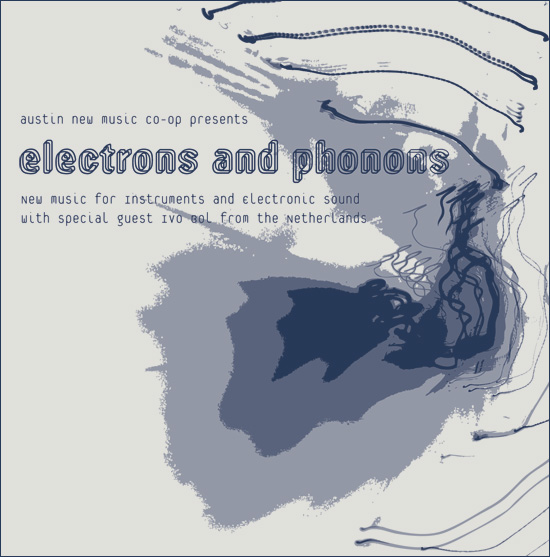 AUSTIN NEW MUSIC CO-OP PRESENTS:
ELECTRONS AND PHONONS
New Music for Instruments and Electronic Sound
Thursday, November 9th - 8:00PM
Ceremony Hall - 4100 Red River (across from Hancock Center)
TICKETS: $12 IN ADVANCE AT END OF AN EAR
$15 AT THE DOOR, $12 STUDENTS AT THE DOOR

Austin New Music Co-op presents "Electrons and Phonons," a fusing of classical instruments and voice with cutting-edge electronic technology. Eight new compositions by Austin composers plus a performance by special guest Ivo Bol of the Netherlands take traditional orchestral instruments into exciting new sonic spaces.
In the NMC's Fall presentation, sounds of solo violin, and cello, voice, string and woodwind ensembles, and other instruments will be combined with state-of-the art computer-generated sounds and live electronic processing. Many of the works incorporate custom signal processing software and hardware. Each new work explores the sonic possibilities of the instruments, and a surround audio system will immerse the audience in novel acoustic spaces.
The program will include the works of local composers James Alexander, Steve Bernal, Ethan Greene, Holland Hopson, William Meadows, Christopher Petkus, Josh Ronsen, and Travis Weller. The program also features a special appearance by composer/performer Ivo Bol. Based in Amsterdam, Ivo specializes in composition for performance, film, new media, electronic music and sound art. He will be performing a composition which processes live and ensemble of Violin, Bass, two Saxophones and Vibraphone.
This event is part of the Society for Electro-Acoustic Music in the United States (SEAMUS) Electro-Acoustic Music Month, an annual worldwide celebration of electronic, computer and electro-acoustic music.
About Ivo Bol
Ivo Bol is a composer and sound artist who specializes in music for performance, film, and theatre. He studied at the Institute of Sonology at the Netherlands Royal Conservatory in Den Haag. He regularly performs throughout The Netherlands in venues such as Kraakgeluiden and the Paradiso. In 2005 he performed in New York and Venezuela with Ties Mellema from the Amstel Saxophone Quartet, and Luis Lara Malvacias. Gia Kourlas of the New York Times described his work with Malvacias as "meticulously put together and utterly endearing."
About Austin New Music Co-op:
The New Music Co-op is a community of composers and performers from the Austin area dedicated to increasing awareness and understanding of new music. Since 2001, the NMC has presented a wide range of innovative and compelling new works and created a unique environment for collaboration and the free exchange of musical ideas. Notable New Music Co-op concerts have included John Cage's Songbooks, Music for the extinct instruments of Luigi Russolo, Pauline Oliveros' Four Meditations for Orchestra (with the composer in attendance), a three-day series of the works of the New York School, and Terry Riley's In C. New Music Co-op members come from highly diverse backgrounds, from classical performance to electronic music to formal composition to rock bands. The group runs by consensus, and gains its strength from its members' varied experiences and interests. The New Music Co-op is a 501(c)(3) non-profit organization, and all donations to the group are tax-deductible. This project is funded in part by the City of Austin through the Cultural Arts Division and by a grant from the Texas Commission on the Arts.

Notes:
Electrons & Phonons: particles of electricity, particles of sound
Pronunciation Guide:
Phonon - "phone - on"
Ivo Bol - "E - vo Bowl"