Mary Oliver
AUSTIN NEW MUSIC CO-OP PRESENTS VIOLINIST MARY OLIVER (NETHERLANDS) PERFORMING SOLO AND IN ENSEMBLE WITH LOCAL IMPROVISERS.
Austin, TX - Internationally acclaimed Amsterdam violinist Mary Oliver will perform new solo work January 24th at the Church of the Friendly Ghost. An American expatriate working in Europe for the past 10 years, Oliver has collaborated with many world renowned improvisers and performed some of the most challenging new music of our time. In addition to her solo performance, Oliver will be joined by local string players James Alexander, Brent Fariss, and Travis Weller for improvisation as a quartet.
SATURDAY, JANUARY 24TH 2004 8:00PM
CHURCH OF THE FRIENDLY GHOST
209 PEDERNALES (Pedernales & 3rd Street, East Austin)
$7 ADMISSION AT THE DOOR

Mary Oliver's extensive training as a violinist has led her to tackle some of the most difficult and complex scores ever realized. Her premieres of new works by John Cage, Richard Barrett, Brian Ferneyhough, and Iannis Xenakis speak to the level of virtuosity she has achieved. Her equally brilliant work as an improviser is a rarity in the ranks of first-rate classical interpreters. Oliver completed a Ph.D at University of California for her research in the theory and practice of improvised music. She puts that theory to work in her solo career and collaborations with distinguished improvisers such as Han Bennink, Joelle Leandre, George Lewis, Misha Mengelberg, John Zorn and Phil Minton.
In addition to her solo performance, Mary Oliver will be conducting a master class for members of the New Music Co-op who will prepare selected works of John Cage, Morton Feldman, Christian Wolff, and Earle Brown for this April's "New York School" performance. Her insight into these composers' work will be invaluable to the Co-op in their preparation of this challenging program. This workshop will be the fourth education and outreach event organized by the New Music Co-op to expose local composers and performers to international artists.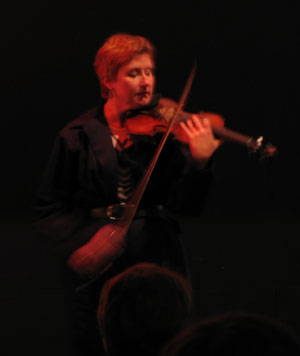 Mary Oliver



Mary Oliver with James Alexander, Brent Fariss, and Travis Weller.

About Mary Oliver

Mary Oliver's work as a soloist encompasses both composed and improvised contemporary music; she has premiered works by among others, Richard Barrett, John Cage, Chaya Czernowin, Brian Ferneyhough, Joelle Leandre, Liza Lim, George Lewis, Richard Teitelbaum and Iannis Xenakis. Oliver has worked alongside improvising musicians such as Ab Baars, Han Bennink, Tristan Honsinger, Joelle Leandre, George Lewis, Misha Mengelberg and Phil Minton.

As a soloist and ensemble player she has performed in numerous international festivals including the Darmstaedter Feriendurse fuer neue Musik, Donaueschinger Muziektage 2002, October Meeting (Amsterdam), Jazz Marathon (Groningen), DuMaurier Vancouver and Toronto Jazz Festivals, Ars Electronica (Linz), Ars Musica (Brussels), June-in-Buffalo (New York), London Musicians Collective Festival, Copenhagen, European Cultural Festival, Angelica Festival (Bologna), Perth Festival, Brisbane Biennial, SpielArt (Munich), Muenchener Biennale and Zuerich Tage fuer Neue Musik.

In 1993-94 she was a resident artist at Schloss Solitude in Stuttgart, where she added the Norwegian hardanger fiddle to her instrumentarium of violin and viola. For the past eight years she has been based in Amsterdam where she has worked locally and internationally with various ensembles such as Instant Composer's Pool, Magpie Music and Dance Company, Scapino Ballet, Nieuw Ensemble, Elision Ensemble (Australia), Ensemble Koeln, and Xenakis Ensemble. Currently she is a professor of music at the Hogeschol voor Kunst and a member of Instant Composer's Pool and musical director of Magpie Music Dance Company.

She studied at San Francisco State University (Bachelor of Music), Mills College (Master of Fine Arts) and the University of California, San Diego where she received her Ph.D in 1993 for her research in the theory and practice of improvised music.