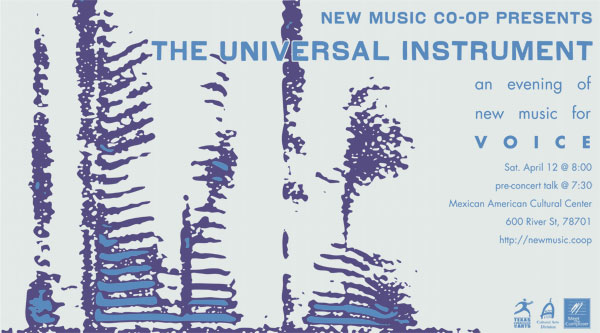 Austin New Music Co-op Presents Concert of Adventurous New Music for Voice
Austin New Music Co-op is excited to present "The Universal Instrument", a concert of adventurous new works for voice. Featured on this performance, the Co-op's first concert devoted to original vocal music, will be eight new compositions by Austin composers performed by a variety of ensembles made up of six vocalists, strings, winds, and percussion.
AUSTIN NEW MUSIC CO-OP PRESENTS:
THE UNIVERSAL INSTRUMENT
An Evening of New Music for Voice
Saturday, April 12, 2008 at 8:00 PM (pre-concert talk at 7:30)
Mexican American Cultural Center (600 River St, 78701)
Tickets: $12 in advance at End of an Ear, $15 at the door

On April 12, 2008 Austin New Music Co-op will present "The Universal Instrument," a concert devoted to new compositions featuring the human voice. Fourteen local musicians will perform eight accompanied and unaccompanied vocal works that include speaking, singing, and the variety of possibilities that lie between. Singer and founding NMC member Brandon Young is proud to be coordinating the event. He will be performing in a number of the pieces as well as presenting his new piece for six singers and prerecorded voice. Vocalists for the evening's performances will include locals Ashley Gaar, Kathy Hatch, Deena Hyatt, Wendi Olinger, Anton Boyd, and Kevin Adickes.
A number of other Co-op composers will have pieces on the program. Travis Weller will present his song cycle with text by poet Dorothy Meiburg for solo soprano accompanied by percussion, viola, horn, and Weller's original instrument, the owl. Brent Fariss will present a piece - also with text by Meiburg - for vocal quintet with percussion and two contrabasses. Both Weller and Fariss are recipients of a grant from "Meet the Composer" for their contributions to the program. Josh Ronsen, Keith Manlove, and former Austinite Holland Hopson will present respectively a solo, duet, and quartet for unaccompanied voices. Chris Cuellar, a first-time collaborator with the New Music Co-op, will present two short works: a solo for amplified voice with delay and a quartet for amplified voices. The score for the latter was derived from Anton Webern's well-known Six Bagatelles for string quartet.
Meet the Composer Grant
NMC is also excited to announce that composers Brent Fariss and Travis Weller have been awarded a grant from the "Meet the Composer" foundation and will be conducting various outreach activities leading up to the concert on April 12th. On April 5th, Fariss and Weller will open one of their rehearsals to the public. The rehearsal will be held at 1010 Willow St at 5pm. This will offer a preview of two works being performed at the concert, as well as a glimpse of the preparation process that NMC composers go through to ready their pieces for performance. Admission is free. On April 6th at 8:30pm 91.7 KOOP Radio's weekly experimental music show "Commercial Suicide" will host Fariss and Weller to play recorded excerpts and discuss the concert and their two pieces. Before the April 12th concert, Fariss and Weller will each give a fifteen-minute talk about their pieces. They will discuss creative approach, notation, instrumentation, and compositional process.
Meet The Composer's mission is to increase opportunities for composers by fostering the creation, performance, dissemination, and appreciation of their music. For more information see http://www.meetthecomposer.org/
About Austin New Music Co-op
The New Music Co-op is a community of composers and performers from the Austin area dedicated to promoting awareness and understanding of new music. Since 2001, the NMC has presented over 30 concerts featuring over 150 new works, many of them premieres. Notable New Music Co-op concerts have included a commission of a program length work by Berlin-based composer Arnold Dreyblatt, a realization of John Cage's Songbooks, Music for the extinct instruments of Luigi Russolo, Pauline Oliveros' Four Meditations for Orchestra (with the composer in attendance), a three-day series of the works of the New York School, and Terry Riley's In C. New Music Co-op members come from highly diverse backgrounds, from classical performance to electronic music to formal composition to rock bands. The group runs by consensus, and gains its strength from its members' varied experiences and interests. The New Music Co-op is a 501(c)(3) non-profit organization, and all donations to the group are tax-deductible.
This project is funded and supported in part by the City of Austin through the Cultural Arts Division and by a grant from the Texas Commission on the Arts and an award from the National Endowment for the Arts, which believes that a great nation deserves great art.
Funded in part through Meet The Composer's MetLife Creative Connections program.