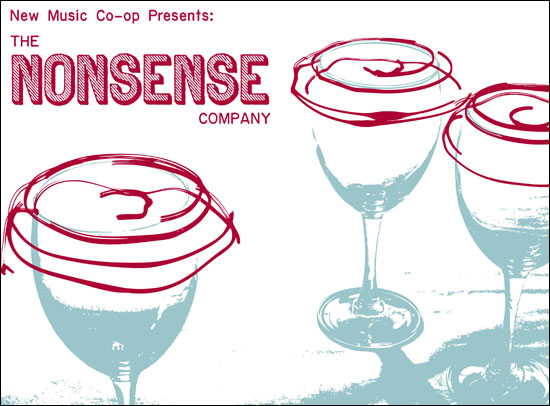 On March 31st, Austin New Music Co-op is excited to present special guests The Nonsense Company for an evening of edgy, thought-provoking contemporary theatre and new music performances. Along side new works by local composers, the Wisconsin-based interdisciplinary trio will perform inventive and compelling assemblages of word and sound.
NEW MUSIC CO-OP PRESENTS: THE NONSENSE COMPANY An Evening of Experimental Theater & New Music Saturday, March 31st - 8:00PM Ballet Austin - 3002 Guadalupe TICKETS: $8 IN ADVANCE AT END OF AN EAR $10 AT THE DOOR, $8 STUDENTS AT THE DOOR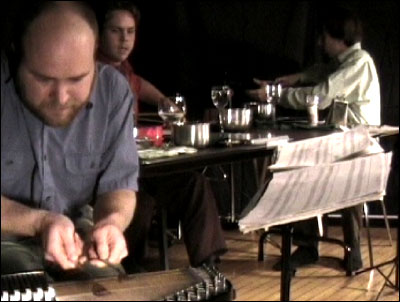 NMC and Madison, WI group The Nonsense Company will perform a concert that brings together experimental music, theater, and socio-political thinking in an evening of truly unique performances. Visiting ensemble The Nonsense Company is a trio of performers seasoned equally in the performance of theater and experimental music. They've been widely heralded as "one of the most original, inventive, and compelling" groups currently performing today. The Nonsense Company performs in a wide variety of contexts and spaces, for audiences not frequently exposed to new music and theater as well as for enthusiasts. For their Austin performance, The Nonsense Company will perform a challenging program of percussion music and theater pieces.
"Strange and compelling pieces... introspective, recursive, highly charged... stunningly choreographed into visual theater as well as an aural melange." -- Dave Romm, KFAI Minneapolis
"Expands my view of theatre and everything else... An extremely well polished, thoughtful, and poignant work of art." -- Audience member, Minnesota Fringe Festival
The Austin New Music Co-op will present a complimentary selection of experimental music/theater pieces, featuring new works by local composers Brent Fariss and Brandon Young as well as percussion works by Stuart Saunders Smith and Vinko Globokar.
About the Nonsense Company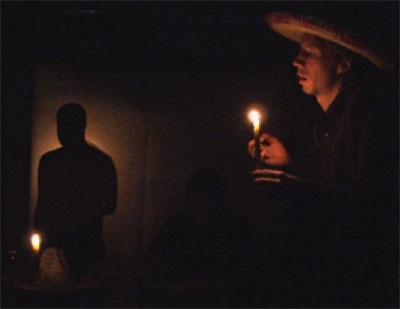 The Nonsense Company performs unique new works in the fields of contemporary music and theater, focusing on the musical use of speech in estranged contexts, the application in theater of techniques native to musical performance, and the effects of innovative aesthetic practice on social and political thinking. The Company's name is borrowed from Franz Schubert's ensemble, die Unsinn Gesellschaft, who with radically spare resources spawned a revolution in the music and poetry of the nineteenth century.
"One of the most interesting concerts of the festival... The Nonsense Company [presented] one of the most solid, free and critical aesthetic propositions, a reproof to the vast majority of ensembles that performed at Darmstadt...." -- Alberto Bernal, Educacion
The company's current members, Rick Burkhardt, Andy Gricevich, and Ryan Higgins, have worked and studied with composers and performers such as Steve Schick, Chaya Czernowin, John Fonville, Red Fish Blue Fish, Herbert Bruen, The Performers' Workshop Ensemble, Ed Harkins, Brian Ferneyhough, and Helmut Lachenmann, as well as with theater directors Matt Wilder, David Wheeler, and Stefan Novinski. Their programs emphasizing the works of startling new composers and playwrights have received repeated invitations to theater and music festivals throughout the United States, Mexico, and Europe.