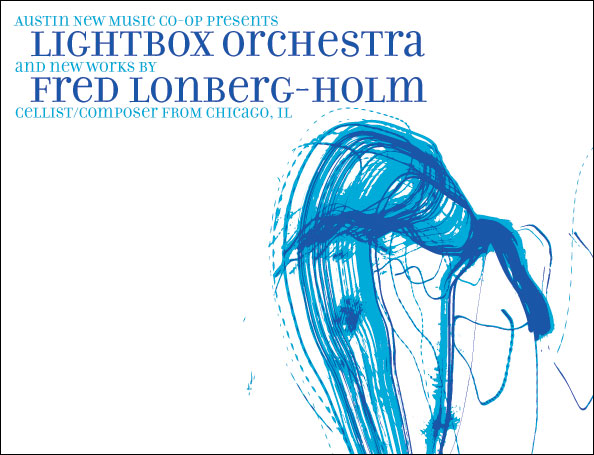 NMC PRESENTS:
LIGHTBOX ORCHESTRA and new WORKS BY FRED LONBERG-HOLM
FRIDAY SEPTEMBER 8TH 8:00pm
BALLET AUSTIN ACADEMY
3002 GUADALUPE
TICKETS: $10 IN ADVANCE AT END OF AN EAR
$12 AT THE DOOR, $10 STUDENTS AT THE DOOR

On Friday, September 8th, the Austin New Music Co-op will host renowned composer-performer Fred Lonberg-Holm (Chicago, IL) for an evening of adventurous chamber music, including the world premiere of a commissioned new work.
Fred Lonberg-Holm (b. 1962) is internationally known for his diverse approach to the cello--stretching across the fields of jazz, rock, modern composition, electronics and creative improvisation. He has worked and recorded with such heavyweights as Peter Brotzmann, Ken Vandermark, Anthony Braxton, Jim O'Rourke and many others. You may recall Lonberg-Holm performing with the rousing Peter Brotzmann Ninetet at the Parish in 2004, or his stellar trio appearance at the Church of the Friendly Ghost with Guillermo Gregorio in 2005.
About the Music
The New Music Co-op is proud to commission a new work from celebrated artist Fred Lonberg-Holm. This exciting new chamber work is written for multiple spatially separated small ensembles sharing limited materials. The NMC ensemble will also become a "Lightbox Orchestra," using Lonberg-Holm's unique system of controlled lights which guide the ensemble through structured improvisation.
A 14-member ensemble of strings, winds, brass, percussion and piano will perform two older Lonberg-Holm pieces that challenge performers to adopt ever changing independent tempos ("Variable Rate Construction") and work together to twist a single theme into many different permutations ("Another Head Chart").
The evening will also feature premieres of two new string quartets by Co-op composers. The two works, "We would like to take this opportunity" by Holland Hopson and "Worlds, Souls, Divinities" by Josh Ronsen will be performed by Lonberg Holm and a string trio from the NMC ensemble.
More about Fred Lonberg-Holm:
http://www.sfgate.com/offbeat/fredlh.html
http://www.furious.com/perfect/fredlonbergholm.html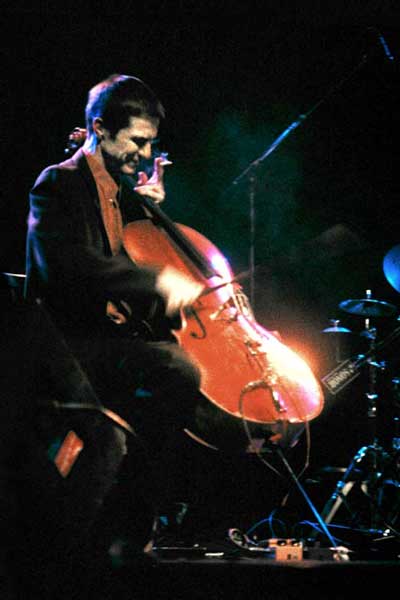 About the Performers
The ensemble members performing these pieces come from a variety of backgrounds. All classically adept, members also participate in diverse local projects such as Golden Arm Trio, My Education, Cinders, Golden Hornet Project, Imbroglio String Quartet, Brekekekexkoaxkoax, Frequency Curtain, ECFA, Bee vs Moth, Benko and Gates Ensemble. The ensemble is as follows: James Alexander; viola, Steve Bernal; cello, Gregory Cornelius; sax, Brent Fariss; bass, Jacob Green; oboe, Holland Hopson; soprano sax, Kirk Latkis; piano, Sarah Norris; percussion, Chris Petkus; guitar, Callie Shelton; flute, Nick Smith; trombone, Josh Ronsen; clarinet, Travis Weller; violin, Brandon Young; voice.
About Austin New Music Co-op
The New Music Co-op is a community of composers and performers from the Austin area dedicated to increasing awareness and understanding of new music. Since 2001, the NMC has presented a wide range of innovative and compelling new works and created a unique environment for collaboration and the free exchange of musical ideas. Notable New Music Co-op concerts have included John Cage's Songbooks, Music for the extinct instruments of Luigi Russolo, Pauline Oliveros' Four Meditations for Orchestra (with the composer in attendance), a three-day series of the works of the New York School, and Terry Riley's In C. New Music Co-op members come from highly diverse backgrounds, from classical performance to electronic music to formal composition to rock bands. The group runs by consensus, and gains its strength from its members' varied experiences and interests. The New Music Co-op is a 501(c)(3) non-profit organization, and all donations to the group are tax-deductible. This project is funded in part by the City of Austin through the Cultural Arts Division and by a grant from the Texas Commission on the Arts.