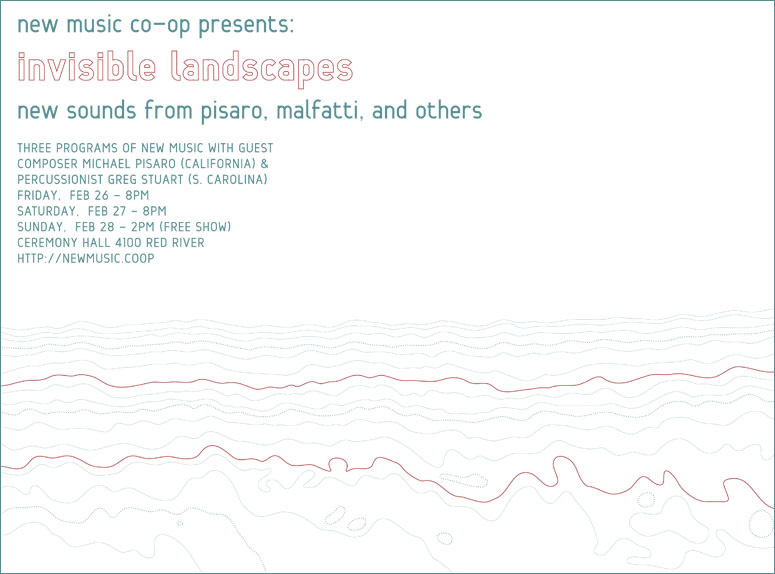 Invisible Landscapes
New Sounds From Michael Pisaro, Radu Malfatti, and others
New Music Co-op explores the geography of sound and silence through three unique programs of adventurous music with guest composer Michael Pisaro (California) and guest percussionist Greg Stuart (S. Carolina).
Invisible Landscapes
Friday, Feb 26th - 8PM
Saturday, Feb 27th - 8PM
Sunday, Feb 28th - 2PM (FREE afternoon show)
All concerts at Ceremony Hall
4100 Red River St.
$12 students/advance and $15 at door
Both Nights: $20 students/advance and $25 if purchased together
Advance tickets available now at End of an Ear http://endofanear.com

On February 26th - 28th, NMC will present three unique programs of new chamber music. Among the eleven works to be performed are two septets commissioned from maverick composers Radu Malfatti (Austria) and Michael Pisaro (California) by the Co-op. The New Music Co-op performers will realize these pieces alongside guest percussionist Greg Stuart, who has dedicated a significant portion of his career to collaboration with Michael Pisaro. Mr. Pisaro will also be in attendance for all three programs to discuss his work. This concert will give Austin new music audiences a rare opportunity to be immersed in one of the more radical branches of contemporary art music.
Many common threads run through the uncompromising pieces on these three programs, among them the summoning of new sounds from acoustic instruments, the use of silence as a material, and a clarity of musical experience which results from pure sounds which are allowed to be themselves.
Michael Pisaro and Radu Malfatti, the two featured composers of this presentation, are regular fixtures on the European experimental music circuit. Pisaro's "pi (1-2594)" was performed late last year by pianist Philip Thomas over the course of a week at the Huddersfield Contemporary Music Festival in England. Both Pisaro and Malfatti are active members of Wandelweiser, a geographically far flung collection of composer/performers who have been presenting concerts and publishing recordings and scores of their music for over 17 years. Wandelweiser stands on the shoulders of 20th century pioneers such as John Cage, Morton Feldman, and La Monte Young, continuing to explore sound, silence, and form in new music.
About the Program
Our program on Friday the 26th begins with Pisaro's piece "A Wave and Waves" for 100 percussion instruments. For this work Greg Stuart will perform solo, accompanied by an 8 channel surround sound system, playing back high fidelity recordings of Stuart playing the other 99 parts. Friday's program also includes Pisaro's "July Mountain" and the amplified sound of melting ice in Alex Keller's "Encantada II." During Saturday's performance we will premiere our two major commission pieces "Red River 7" by Radu Malfatti and "Ascending Series (7) (evaporation)" by Michael Pisaro. The co-op has been honing these two starkly beautiful pieces under the direction of the composers. Also on Saturday's program are new works by Nick Hennies and Travis Weller. Sunday's free afternoon performance features "Eye of the Blackbird" from Pisaro's notable "Harmony Series" and "Stones" by New York School composer Christian Wolff as well as new works by NMC composers Brent Fariss and William Bridges.
About Michael Pisaro
Michael Pisaro was born in Buffalo in 1961. He is a composer and guitarist, a member of the Wandelweiser Composers Ensemble and founder and director of the Experimental Music Workshop. His work is frequently performed in the U.S. and in Europe, in music festivals and in many smaller venues. It has been selected twice by the ISCM jury for performance at World Music Days festivals and has also been part of festivals in Hong Kong, Aspen, London, Glasgow, Huddersfield, and Chicago. He has had extended composer residencies in German, Switzerland, Israel, Greece and in the U.S. He is Co-Chair of Music Composition at the California Institute of the Arts near Los Angeles. He has performed many of his own works and those of close associates Antoine Beuger, Kunsu Shim, Jürg Frey and Manfred Werder, and works from the experimental tradition, especially John Cage, Christian Wolff, James Tenney and George Brecht.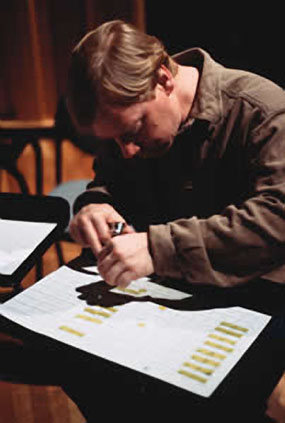 For more information:
http://www.timescraper.de/pisaro/
http://www.calarts.edu/faculty_bios/
About Greg Stuart
Born in Berkeley, California and hailing from Minnesota's Twin Cities, Greg Stuart is dedicated to expanding new music for percussion through commissions, improvisation and mixed-media projects. His current work is centered around pieces from the experimental tradition, the Wandelweiser Collective, and an ongoing collaboration with the American composer Michael Pisaro. Since 2006, Stuart and Pisaro have been producing evening length works in the form of multi-channel recordings. These works employ diverse instrumentations in large ensemble formations and are often combined with live performance. Stuart has recorded extensively, performing works by Xenakis, Stockhausen, Reynolds and Scelsi. Stuart holds DMA and MA degrees from the University of California, San Diego where he studied with Steven Schick. Stuart is currently a Visiting Assistant Professor at the University of South Carolina in Columbia, SC where he teaches composition and music history.