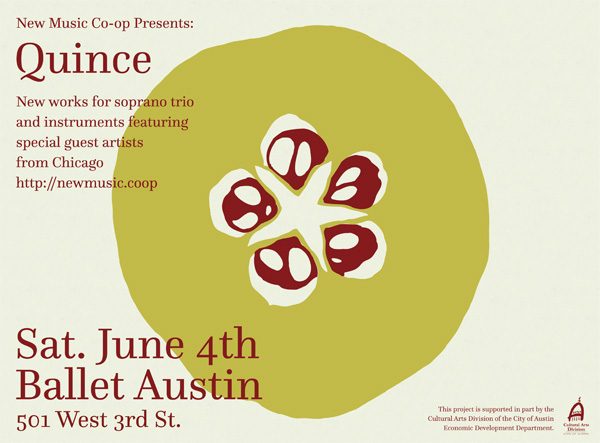 Austin New Music Co-op Presents: The Quince Ensemble
NMC Composers & Quince Ensemble premiere four new works for three voices and instruments.
NMC Presents: Quince
Featuring special guests from Chicago
Saturday June 4th 8:00pm
Ballet Austin Academy, Armstrong/Connelly Studio
501 W. 3rd St. Austin, TX 78701
Advance tickets available now at http://nmc-quince.eventbrite.com
$12 student/advance and $15 at the door

For our third concert focused on vocal music, NMC is thrilled to present special guest artists the Quince Ensemble. Having recently returned from a performance in Poland with David Lang (Bang on a Can), this adventurous trio of vocalists is headed for Texas to premiere four new works by NMC composers. Quince singers Elizabeth Pearse (soprano), Kayleigh Butcher (mezzo soprano) and Carrie Henneman Shaw (soprano) have made a name for themselves by tackling unique musical challenges and performing genre-bending contemporary repertoire. After an incredibly successful outing with "Convergence" vocal quartet which netted an Austin Critics Table award for "Best Vocal Performance" in 2012, NMC composers Laura Brackney, Brent Fariss, Andrew Stoltz, and Travis Weller can't wait to hear their new vocal works brought to life by this world class trio.
About the Program
Brent Fariss' "Three Angels" is scored for two bass flutes, trombone, vibraphone and three singers with text contributed by Swedish conceptual artist Leif Elggren. Laura Brackney brings her minimalist a cappella work "Consecutive Motion" for three voices. "Winter Scenes" by Travis Weller explores pure tones using cello, bowed microtonal steel bells, and three voices, with text by Dorothy Meiburg Weller. Andrew Stoltz' piece for three vocalists with vibraphone, bass drum, chimes, cello, and invented string instrument "The owl" explores personal history. All four compositions were written for the Quince Ensemble.
About the Quince Ensemble
With the precision and flexibility of modern chamber musicians, Quince Contemporary Vocal Ensemble specializes in experimental repertoire that is changing the paradigm of contemporary vocal music. Described as "a new force of vocal excellence and innovation" by The Brooklyn Rail, Quince continually pushes the boundaries of traditional vocal ensemble literature.
As dedicated advocates of new music, Quince regularly commissions new works, providing a wider exposure for the music of living composers, and supports the efforts of concert series and universities who strive to incorporate contemporary repertoire into their programming. Quince has recently been seen on Vicky Chow's Contagious Sounds Series, a.per.io.dic's John Cage Festival in Chicago, on the Philip Glass: Music with Friends benefit concert at the Issue Project Room in Brooklyn, the Bemis Center for Contemporary Arts in Omaha, NE, and the Codes Festival in Lublin, Poland.
More info: http://www.quince-ensemble.com/
Parking information
Attendees are welcome to park in the Austin City Hall parking garage (at Cesar Chavez and Lavaca St). Ballet Austin is about two blocks west (3rd and Nueces). We will validate up to two hours of parking in this garage. There are other garages and pay lots nearby, but rates will vary. Please note there is no parking available at the venue itself. Construction sites nearby will make finding street parking very difficult.
About Austin New Music Co-op
New Music Co-op is a community of composers and performers from the Austin area dedicated to promoting awareness and understanding of new music. Since 2001 NMC has presented almost 50 concerts featuring close to 200 new works, many of them premieres. Notable New Music Co-op concerts have included two collaborations with Ellen Fullman and her Long String Instrument, the first complete US performance of Cornelius Cardew's seven-hour epic, The Great Learning, a commission of a program-length work by Berlin-based composer Arnold Dreyblatt, a realization of John Cage's Song Books, music for the extinct instruments of Luigi Russolo, Pauline Oliveros' Four Meditations for Orchestra (with the composer in attendance), and a three-day series of the works of the New York School. The Co-op was named "Outstanding Classical Ensemble" for 2011-2012 by the Austin Critics' Table. The New Music Co-op is a 501(c)(3) non-profit organization, and all donations to the group are tax-deductible.
This project is supported in part by the Cultural Arts Division of the City of Austin Economic Development Department.