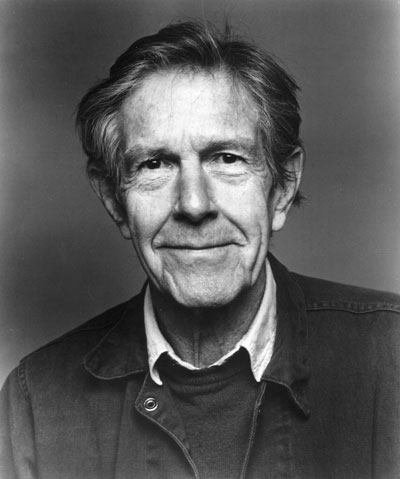 John Cage Centennial Celebration
Austin's new music groups join forces to present five hour marathon concert featuring over 30 works and over 50 musicians
Saturday, September 8th, 2012
3:00, 4:00, 5:00, 6:00, & 7:00 pm (come to one, or stay for them all!)
Emma S. Barrientos Mexican American Cultural Center, 600 River Street
Tickets: $15 in advance at http://austinchambermusic.org/
or $15 at the door
Austin, TX - John Cage, perhaps the most influential composer of the 20th century, would have been 100 years old on September 5th. This year, concert halls around the world have been filled with sound (and silence) commemorating his work. Of course, Cage's music is no anomaly here in Central Texas -- Austin's contemporary music champions have been celebrating Cage for quite some time. Now in its twelfth year, Michelle Schumann's "Happy Birthday Mr. Cage!" has become a veritable institution in Austin, collecting a dedicated fan base to cheer on the annual celebration. New Music Co-op has been incorporating Cage's repertoire into concerts for over a decade, and relative newcomers "line upon line" have been energetically working their way through his percussion repertoire.
As huge fans of Cage's music and ideas, this community of musicians wanted its part of the world-wide celebration to represent the range and beauty of his compositional output -- not just his "Greatest Hits." Drawing from a long list of works stretching from 1931 to 1992, co-curators Brent Baldwin (Texas Choral Consort), Michelle Schumann (Austin Chamber Music Center), Matt Teodori (line upon line), and Travis Weller (New Music Co-op) have crafted five one-hour concerts which celebrate the many and varied sides of this insanely inventive composer.
Co-presented by Austin Chamber Music Center, Austin New Music Co-op, line upon line percussion, and Texas Choral Consort, this celebration promises to delight the most die-hard of fans, along with the mildly curious, featuring a wide array of over thirty works performed by close to fifty musicians. It's John Cage's 100th Birthday Party, and everyone is invited!
The Performers
Michelle Schumann, piano; Texas Choral Consort w/Brent Baldwin; line upon line percussion; Bel Cuore Saxophone Quartet; Bill Thompson, electronics (UK); Travis Weller, Brent Fariss, Henna Chou, Steve Parker, Mikal Hart, Josh Ronsen and more!
The Pieces
Ryoanji, A Valentine out of Season, Hymn and Variations for Chorus, First Construction, Solo for Sliding Trombone, Aria, Amores, Inlets, 4'33", Child of Tree, Variations II III & IV, ear for EAR (Antiphones), Hymns and Variations, In a Landscape, six of Cage's "number" pieces, among many others.