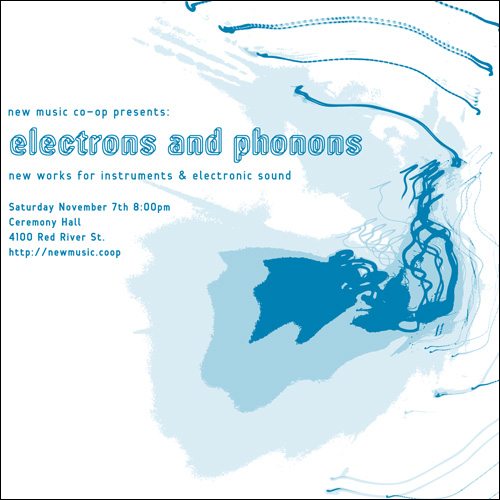 Austin New Music Co-op Presents: Electrons & Phonons New works for instruments and electronic sound
Electrons and Phonons
November 7, 2009 - 8PM
Ceremony Hall
4100 Red River St.
$12 students/advance and $15 at door
Advance tickets available now at End of an Ear http://endofanear.com

The Austin New Music Co-op is proud to announce the fourth annual Electrons and Phonons concert showcasing compositions of electronic and electro-acoustic music. This year's program features instrumentation ranging from ukuleles to iPhones and a sonic costume made of paper.
The featured artist is Heloise Gold, presenting "The Sound of Paper" which premiered in the 2009 Fusebox Festival. In this work, Gold performs a slow-motion, tai chi inspired dance in a costume made entirely of paper. The subtle crackling sounds of the moving paper are amplified and the result is an intimate, zen-like meditation on the small made large.
"It moves, every movement magnified in the universe, making a crackling sound emanating from the forest itself, a growling, an unraveling anticipation." (http://www.movineasy.com/blog/?p=754)
Also on the program: Keith Manlove premieres a work for vocals, percussion, live electronics and video; Chris Petkus creates a work for a quartet of iPhones; Alex Keller distresses a bass guitar; Greg Headley creates a piece for sine waves and bowed acoustic guitars; Andrew Stoltz performs on mouthbow with violin and viola; and William Bridges takes the ukulele into uncharted territory.
Don't miss this exciting showcase of electro-acoustic and experimental music!