Austin New Music Co-op Presents: Sound in Time - The Music of composer Alvin Lucier, with special guest appearance by acclaimed cellist Charles Curtis (San Diego, CA)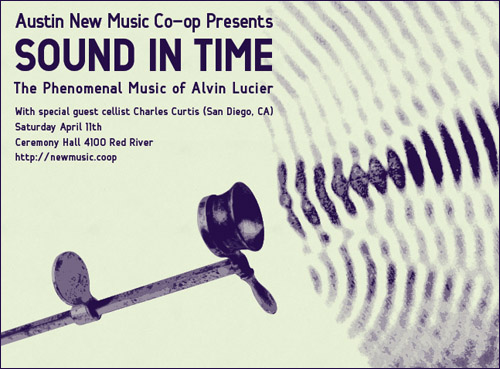 NMC is excited to present a full program of adventurous new music by influential minimalist composer Alvin Lucier. The co-op will be joined by virtuoso cellist Charles Curtis, a longtime colleague of Lucier and expert in his wonderfully innovative work. Through Lucier's music, our audience will experience the physicality of sound while sine waves are frozen in time and performers use custom made electronic echo-location devices to reveal the unique sonic personality of the hall. Don't miss this rare opportunity to hear the strange and beautiful music of this ground-breaking experimental composer.
AUSTIN NEW MUSIC CO-OP PRESENTS:
Sound in Time - The Music of Alvin Lucier
With Special Guest Cellist Charles Curtis (San Diego, CA)
April 11th, 2009 - 8PM
Ceremony Hall
4100 Red River St.
$12 students/advance and $15 at the door
Advance tickets available at End of an Ear http://endofanear.com

Among the pieces to be performed is "Vespers," composed in 1968 and dedicated to "all living creatures who inhabit dark places and who, over the years, have developed acuity in the art of echolocation." The title of this work comes from the North American bat of the family "Vespertilionidae," some of which reside under our very own Congress St. bridge. According to the composer, the piece seeks to "make a picture in sound about the space you're in." In order to perform the piece NMC members Bill Meadows and Travis Weller have crafted replicas of the electronic "Sondol" echo-location devices which were used in the original piece. In realizing this immersive piece, an ensemble of NMC performers will use the devices to send sounds into the environment. The sounds return as echoes carrying information about the shape, size, and substance of the performance space and the objects in it.
Also on the program is Lucier's "Still and Moving Lines of Silence in Families of Hyperbolas," composed in 1984. This series of pieces for chamber instruments (woodwinds, strings, and percussion) feature closely tuned pitches to create "sound geographies" of standing waves. As the performers change their tunings, they cause sound waves to freeze in place, or begin to slowly shift in one direction or the other. The performers as well as the audience will experience the unusual sensations of these lines of sound physically interacting with each other.
Additionally, NMC percussionist Nick Hennies will present "Silver Streetcar for the Orchestra," and our guest artist will perform Lucier's piece, commissioned for the performer and entitled "Charles Curtis," for solo cello with two sine wave sweeps. In all, this distinctive program is sure to be stunning in its physicality.
About Charles Curtis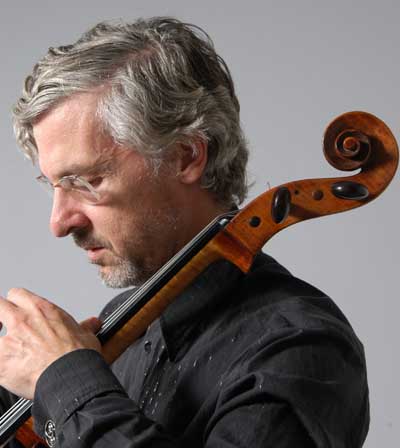 Cellist Charles Curtis studied at Juilliard under Harvey Shapiro and Leonard Rose. Since Fall 2000 he has been Professor of Contemporary Music Performance at the University of California, San Diego. Previously he was principal cello of the Symphony Orchestra of the North German Radio in Hamburg, a faculty member at Princeton, the cellist of the Ridge String Quartet, and a sought-after chamber musician and soloist in the classical repertoire. He holds the Piatigorsky Prize of the New York Cello Society, and received prizes in the Naumburg, Geneva and Cassado international competitions. He has appeared as soloist with the San Francisco Symphony, the National Symphony, the Baltimore Symphony, the Symphony Orchestra of Berlin, the NDR Symphony, the Orchestre de la Suisse Romande, the Orquestra de la Maggio Musicale in Florence, as well as orchestras in Brazil and Chile; under the baton of distinguished conductors such as Andre Previn, Herbert Blomstedt, Max Rudolf, John Eliot Gardiner and Christof Eschenbach. His chamber music associations have taken him to the Marlboro, Ravinia, Wolf Trap, La Jolla Summerfest and Victoria Festivals, among many others. He has recorded and performed widely with soprano Kathleen Battle and harpsichordist Anthony Newman, as well as with jazz legends such as Herbie Hancock, Wayne Shorter and Brad Mehldau. Since 1986 Curtis has worked closely with composer La Monte Young, leading numerous premieres in concert venues throughout the world. Curtis' association with Alvin Lucier dates to Lucier's 2002 visit to UCSD; since then, Curtis has performed Lucier's works in New York, Boston, Hamburg, Vienna, Berlin, Cologne, Bergen and Brno. The first entirely acoustic composition by French composer Eliane Radigue was commissioned by Curtis; "Naldjorlak", an hour-long solo cello work, is to be issued on the French Shiiin label in early 2007. In December 2005 Curtis presented "Waking States", a series of seven solo concerts in various New York venues of major works by Young, Lucier, Radigue, Terry Jennings and Morton Feldman. In September and October 2006 Curtis played works of Radigue and Lucier in Latvia, Norway, Germany and France.
For more information: http://en.wikipedia.org/wiki/Charles_Curtis_(musician)
About Alvin Lucier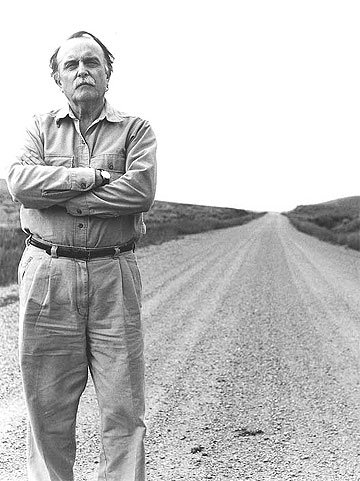 Alvin Lucier (born May 14, 1931) is an American composer of experimental music and sound installations that explore acoustic phenomena and auditory perception. A long-time music professor at Wesleyan University, Lucier was a member of the influential Sonic Arts Union, which included Robert Ashley, David Behrman, and Gordon Mumma. Much of his work is influenced by science and explores the physical properties of sound itself: resonance of spaces, phase interference between closely-tuned pitches, and the transmission of sound through physical media. Mr. Lucier performs, lectures and exhibits his sound installations extensively in the United States, Europe and Asia. He has visited Japan twice: in 1988 he performed at the Abiko Festival, Tokyo, and installed MUSIC ON A LONG THIN WIRE in Kyoto; in 1992 he toured with pianist Aki Takahashi, performing in Kawasaki, Yamaguchi and Yokohama. In 1990-91 he was a guest of the DAAD Kunstler Program in Berlin. In January 1992, he performed in Delhi, Madras, and Bombay, and during the summer of that year was guest composer at the Time of Music Festival in Vitaasari, Finland. He regularly contributes articles to books and periodicals. His own book, Chambers, written in collaboration with Douglas Simon, was published by the Wesleyan University Press. In addition, several of his works are available on Cramps (Italy), Disques Montaigne, Source, Mainstream, CBS Odyssey, Nonesuch, and Lovely Music Records.
For more information: http://en.wikipedia.org/wiki/Alvin_Lucier

2017
2016
2015
2014
2013
2012
2011
2010
2009
2008
2007
2006
2005
2004
2003
2002