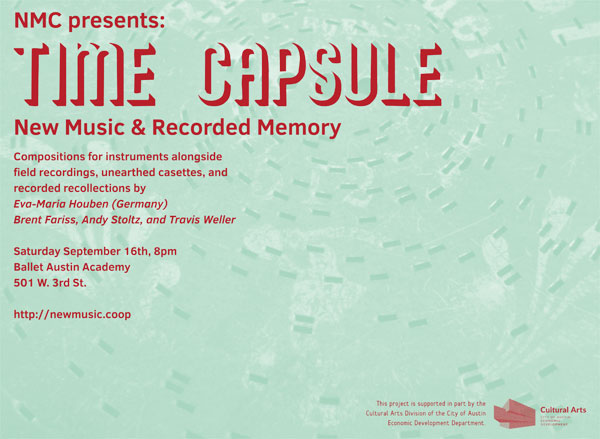 Austin New Music Co-op Presents: Time Capsule
NMC Presents: Time Capsule
New Music & Recorded Memory
Saturday September 16th 8pm
Ballet Austin Academy, Armstrong/Connelly Studio
501 W. 3rd St. Austin, TX 78701
Advance tickets available now at http://nmc-timecap.eventbrite.com
$10 student/advance and $12 at the door
Recordings of various types permeate our daily lives. Looking beyond the parade of Internet audio streams, voicemail and muzak, sound recordings truly have the power to connect us with the past, transport us to faraway places, and make meaning in ways music alone cannot. In this program, NMC explores the power of pre-recorded audio to expand the reach of a musical composition -- weaving spoken voices and field recordings among instrumental lines.
About the Program
We're excited to present "Continuity" for piano and tape by German composer Eva-Maria Houben. The piece combines calm piano tones with recordings of the Greek Sea. "High Lonesome Suicide" by Andrew Stoltz, composed for 2 celli and cassette tapes, is based on two separate tape sources: a text recording of unknown origin shared through a network of fellow musicians and a 20+ - year old improvisation by a college friend/mentor. "Roads of Arcola," by Travis Weller, is scored for violin, viola, cello, flute, prepared piano, and marimba. Recorded recollections of the composer's grandmother in response to recently unearthed family photos from her childhood in the late 20s and early 30s will accompany the music. Brent Fariss will be premiering a work for piano and environmental recordings of cicadas and 2 detuned pianos.
About Eva-Maria Houben
Eva-Maria Houben (born 1955) studied Music Education at Folkwang-Musikhochschule Essen and the organ with Gisbert Schneider. Since 1993, Professor Houben has been lecturing at Dortmund University's "Institut fuer Musik und Musikwissenschaft", with both music theory and contemporary music as her focus. She has published many books concerning contemporary music, contemporary composers and traditional music, listened to with 'new ears'.
Eva-Maria Houben has been performing works for the organ for more than 30 years. As she is related to the "wandelweiser-group" of composers, her compositions are published by "edition wandelweiser", Haan. Her list of compositions up to now includes works for the organ, piano, clarinet, trombone, violoncello and other solo instruments, works for voice and piano, for wind and chamber ensembles, for orchestra and for voice and orchestra, works for choir (www.wandelweiser.de).
This project is supported in part by the Cultural Arts Division of the City of Austin Economic Development Department.