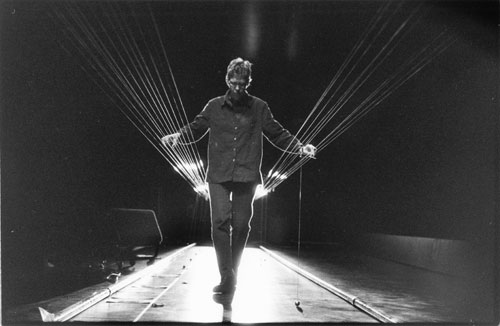 Austin New Music Co-op Presents: Ellen Fullman & The Long String Instrument
Composer-performer and former Austinite Ellen Fullman returns to Austin with her 100 foot long string instrument for the first time in 12 years. Rare performance to be held at the historic downtown Seaholm Power Plant.
Saturday, March 13th - 8PM
Sunday, March 14th - 8PM
Both performances at The Seaholm Power Plant
214 West Avenue Austin, TX 78701
$12 students/advance and $15 at door
Advance tickets available now at End of an Ear http://endofanear.com

Important note about arriving at Seaholm Power Plant
Although it is most visible from Cesar Chavez, you will not be able to enter from that street. In order to get to the concert, please take 5th or 6th street to West Avenue (heading South, toward the river). West Avenue dead ends at the entrance to Seaholm, you will see a chain link fence with a gate and the smoke stacks in the background. We highly recommend you arrive early and find street parking, as opposed to parking inside the fenced-in area.
NMC is thrilled to present Ellen Fullman and her Long String Instrument for a long-overdue homecoming performance. Austin audiences will have the opportunity to step into the turbine hall of a historic power plant and be enveloped by dense masses of sound from a 100 foot long string instrument. This experience is akin to stepping into an enormous grand piano. Fullman's rare visit also celebrates the SXSW world premiere of Peter Esmonde's in-depth documentary film about her music entitled "5 variations on a long string."
Ellen Fullman called Austin home from 1985 to 1997, and rented studio space in a former candy factory off Manor Road east of the University. It was there that she developed many aspects of her work and her very unique instrument. Using incredible lengths of wire and custom built wooden resonators, Fullman transformed the hardwood-floored building into a gigantic instrument. Breaking with all conventions of string playing, she rosined her hands and walked along the lengths of wire coaxing out otherworldly vibrations.
Over the past 25 years, Ellen Fullman has taken that original idea, carefully refined it, and brought it to the world by performing throughout the Europe, Japan, and the Americas. For this incredibly rare event, Fullman and NMC will construct the Long String Instrument inside a particularly resonant Austin landmark: the magnificent turbine hall of the 1930's Art Deco Seaholm Power Plant. In two very special concerts, Ellen Fullman will perform her compositions solo and in ensemble with NMC instrumentalists James Alexander (viola), Henna Chou (cello), Nick Hennies (percussion), and Travis Weller (violin).
Photos:
http://www.ellenfullman.com/Photos.html
Video links:
Ellen Fullman performance at Berkeley Art Museum, December 4, 2009:
http://www.youtube.com/watch?v=gqUf4kbOgY0
Ellen Fullman performance in Austin, TX at the Candy Factory, November 12, 1994:
http://www.youtube.com/watch?v=PbwgHXeY3Po
More about Seaholm Power Plant:
http://www.downtownaustintv.org/#/business/seaholm-power-plant/
About The Documentary Film "5 variations on a long string"
World premiering at SXSW 2010, this short film is an intense exploration of Ellen Fullman's extraordinary sound world and process. Produced and directed by Peter Esmonde (whose feature Trimpin: the sound of invention premiered at SXSW 2009), 5 variations on a long string features cinematography by Peter Strietmann (longtime cameraman for Matthew Barney), and was edited by Maureen Gosling (who cut many of Les Blank's films, including Burden of Dreams). Premiere screenings will take place Monday March 15 at 4:45pm and Thursday, March 18, at 11am.
About Ellen Fullman
In 1981 Ellen Fullman began developing the "Long String Instrument," an installation of dozens of wires fifty feet or more in length, tuned in Just Intonation and 'bowed' with rosin coated fingers. Fullman has developed a unique notation system to choreograph the performer's movements, exploring sonic events that occur at specific nodal point locations along the string-length of the instrument. She has recorded extensively with this unusual instrument and has collaborated with such luminary figures as composer Pauline Oliveros, choreographer Deborah Hay, the Kronos Quartet, and Keiji Haino. She has been the recipient of numerous awards, commissions and residencies including: DAAD Artists-in-Berlin Program residency, Japan/U.S. Friendship Commission/NEA Fellowship for Japan, Meet the Composer, Reader's Digest Consortium Commission, Artist Trust/Washington State Arts Commission Fellowship, and artist-in-residence at Headlands Center for the Arts. Her music was represented in The American Century; Art and Culture, 1950-2000 at The Whitney Museum, and she has performed in venues and festivals in Europe, Japan, and the Americas including: Instal, Lincoln Center Out-of-Doors, Other Minds, the Walker Art Center and Donaueschinger Musiktage. Her release "Ort", with Berlin-based collaborator Joerg Hiller, was selected in the top 50 recordings of 2004 by The Wire (London) and "Fluctuations" with trombonist Monique Buzzarte on Deep Listening was included in the Wire top 50 of 2008.
For more information:
http://www.ellenfullman.com/
http://en.wikipedia.org/wiki/Ellen_Fullman
About Austin New Music Co-op
The New Music Co-op is a community of composers and performers dedicated to promoting awareness and understanding of new music. Since 2001, the NMC has presented over 30 concerts featuring over 150 new works, many of them premieres. Notable New Music Co-op concerts have included a commission of a program length work by Berlin-based composer Arnold Dreyblatt, a realization of John Cage's Songbooks, music for the extinct instruments of Luigi Russolo, Pauline Oliveros' Four Meditations for Orchestra (with the composer in attendance), a three-day series of the works of the New York School, and Terry Riley's In C. New Music Co-op members come from highly diverse backgrounds, from classical performance to electronic music to formal composition to rock bands. The group runs by consensus and gains its strength from its members' varied experiences and interests. The New Music Co-op is a 501(c)(3) non-profit organization, and all donations to the group are tax-deductible.