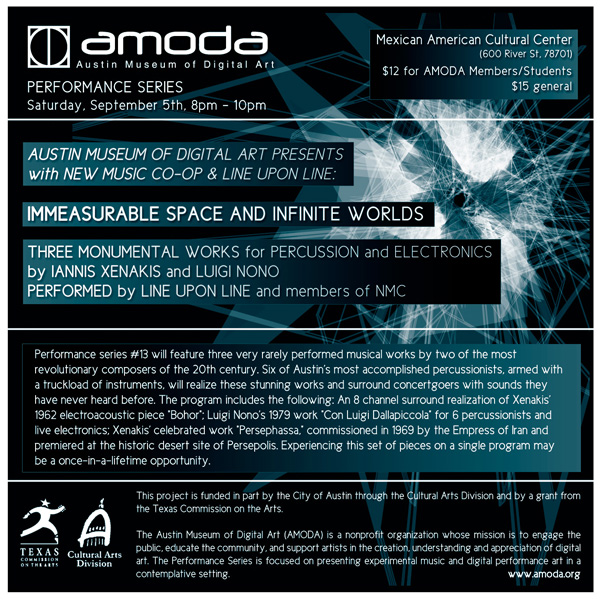 AUSTIN MUSEUM OF DIGITAL ART PRESENTS with NEW MUSIC CO-OP & LINE UPON LINE: IMMEASURABLE SPACE AND INFINITE WORLDS

THREE MONUMENTAL WORKS for PERCUSSION and ELECTRONICS by IANNIS XENAKIS and LUIGI NONO PERFORMED by LINE UPON LINE and members of NMC

On September 5th, Austin new music audiences will experience three groundbreaking works by two of the most significant composers of the 20th century. Performed by six of Austin's most accomplished percussionists, armed with a truckload of percussion instruments, these stunning works will surround concertgoers with sounds they have never heard before. The artists will transform the Mexican American Cultural Center into a giant bell for a rare 8 channel surround realization of Xenakis' 1962 electroacoustic piece "Bohor." They will coax otherworldly sonic colors from metal, wood, skin, and bamboo in Luigi Nono's 1979 work "Con Luigi Dallapiccola" (1979) for 6 percussionists and live electronics. Finally, Xenakis' celebrated work "Persephassa," commissioned in 1969 by the Empress of Iran and premiered at the historic desert site of Persepolis, will be performed by 6 percussionists in a ring around the audience. This arrangement will bring into focus the composer's unique vision of spatialized sound. All three of these pieces are rarely performed due to the incredible amount of time and equipment required to fully realize them. Experiencing this set of pieces on one program may indeed be a once-in-a-lifetime opportunity.

The Program

Xenakis - "Bohor" (1962) for 8 channel electronics Nono - "Con Luigi Dallapiccola" (1979) for 6 percussionists and live electronics Xenakis - "Persephassa" (1969) for six percussionists

About the Composers

Iannis Xenakis (May 29, 1922 - February 4, 2001) was a Greek composer, music theorist and architect. He is commonly recognized as one of the most important post-war avant-garde composers. Xenakis pioneered the use of mathematical models such as applications of set theory, varied use of stochastic processes, game theory, etc., in music, and was also an important influence on the development of electronic music.

Luigi Nono (January 29, 1924 - May 8, 1990) was an Italian avant-garde composer and one of the most important composers of the 20th century. His avant-garde partisanship was inseparable from a commitment to socialism, twin aspects of a revolt against bourgeois culture: hence his avoidance of normal concert genres in favour of opera and electronic music, his frequent recourse to political texts and his work in bringing music to factories. His works include the operas Intolleranza 1960 (1961) and Al gran sole carico d'amore (1975), the cantata Il canto sospeso (1956), orchestral works and tape pieces.

About Line Upon Line

Based in Austin, Texas, line upon line is a recently formed percussion group dedicated to performing music by the greatest composers of our time and to commissioning new works from both established and up-and-coming composers. The group gave the world premiere of Baltimore-based composer Joshua William MillsÕs Prism of the Plural in February 2009 in Austin. Following the first performance, the group traveled to Peabody and performed the work in both a composition master class (directed by Christopher Rouse) and in concert. A month later, line upon line premiered Dan WelcherÕs You Can Fool in Round Top, Texas at the Round Top Percussion Festival. April brought the premiere of Five Vignettes by Justin Sharp followed in May by a performance of Rochester-based Baljinder SekhonÕs Lou in the Long CenterÕs Rollins Theatre. line upon line is slated to perform at Northeast Texas Community College and at the Mexican American Cultural Center in the coming months. The new quartet has also performed full-length programs in Gallery 5619, the Austin Museum of Art and the Blanton Museum of Art. line upon line is Adam Bedell, Timothy Briones, Cullen Faulk and Matthew Teodori.

About Austin New Music Co-op

The New Music Co-op is a community of composers and performers dedicated to promoting awareness and understanding of new music. Since 2001, the NMC has presented over 30 concerts featuring over 150 new works, many of them premieres. Notable New Music Co-op concerts have included a commission of a program-length work by Berlin-based composer Arnold Dreyblatt, a realization of John Cage's Songbooks, music for the extinct instruments of Luigi Russolo, Pauline Oliveros' Four Meditations for Orchestra (with the composer in attendance), an immersive program of music by Alvin Lucier, a three-day series of the works of the New York School, and Terry Riley's In C. New Music Co-op members come from highly diverse backgrounds, from classical performance to electronic music to formal composition to rock bands. The group runs by consensus, and gains its strength from its members' varied experiences and interests. The New Music Co-op is a 501(c)(3) non-profit organization, and all donations to the group are tax-deductible. For more information: http://newmusic.coop/

About AMODA

The Austin Museum of Digital Art is a nonprofit institution whose mission is to engage the public, educate the community, and support artists in the creation, understanding and appreciation of digital art. Founded in 1997, the Austin Museum of Digital Art is the world's first museum dedicated to digital art.

The Performance Series is focused on presenting experimental music and digital performance art in a contemplative setting.