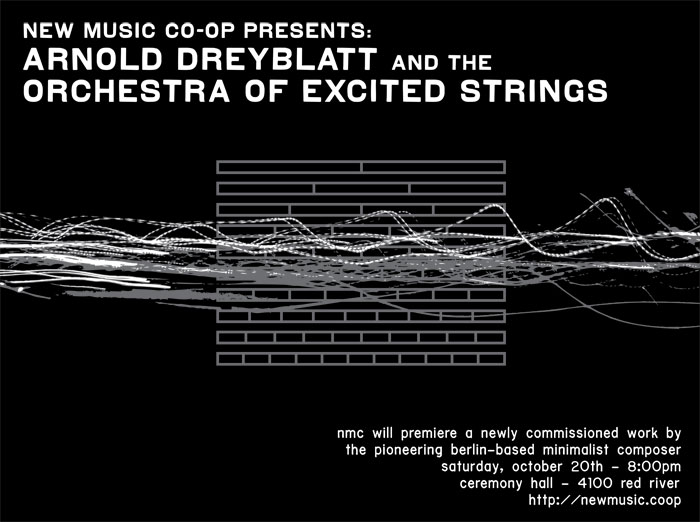 On Saturday October 20th, Austin New Music Co-op is excited to present visionary guest composer Arnold Dreyblatt for an evening of exciting new music. The NMC will premiere a newly commissioned work by the Berlin-based composer for strings, horn, and percussion.
NEW MUSIC CO-OP PRESENTS:
ARNOLD DREYBLATT AND THE ORCHESTRA OF EXCITED STRINGS
Saturday, October 20th - 8:00PM
Ceremony Hall - 4100 Red River
TICKETS: $10 IN ADVANCE AT END OF AN EAR
$12 AT THE DOOR, $10 STUDENTS AT THE DOOR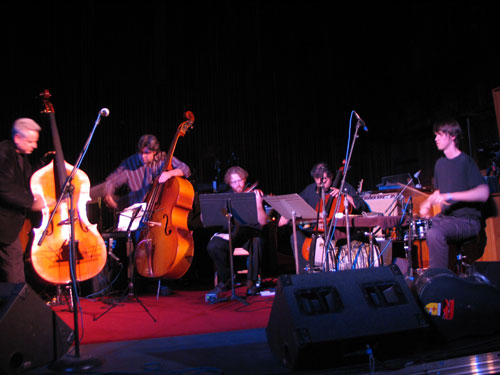 In one of their most ambitious programs yet, the New Music Co-op has commissioned a new composition from Arnold Dreyblatt. The new program-length work entitled "Kinship Collapse" will be premiered by the NMC 'Orchestra of Excited Strings' featuring Steve Bernal, cello; Brent Fariss, bass; Mikal Hart, horn; Nick Hennies, percussion; Josh Ronsen, guitar; and Travis Weller, violin. The program will also feature a solo performance by Dreyblatt on his 'Excited String Bass' which uses piano wire instead of contrabass strings to create an otherworldly cloud of harmonic overtones.
This collaboration was born when NMC was chosen as Arnold's backing ensemble in Spring of 2006 during the South by Southwest music festival. The smaller-scale project received rave reviews: "Arnold cued the [NMC] musicians as he played his bass and they came to a few thrilling stops and starts at coordinated changes" said a review of the concert in the April issue of 'Baggatellen.' The reviewer continued, saying of the concert "A really great performance that received the standing ovation of the night. Thrilled that I got to see this." After a successful and inspiring experience, Dreyblatt and NMC agreed to continue working together.
About Arnold Dreyblatt
Arnold Dreyblatt is one of the most engaging figures from the second generation of New York minimalists. He has also been called "the minimalist who never forgot that music is still the human mating call." During a three decade career he has developed a distinctive - and delightfully accessible - approach to composition and performance. Employing modified and invented instruments and a unique tuning system based on the harmonic series, his music is a vigorously rhythmic and richly textured romp through the natural overtone series.
Arnold Dreyblatt's compositions have been recorded for such leading avant-garde music labels as Hat Hut, Tzadik and Table of Elements. The New York native studied film and video at SUNY with Woody and Steina Vasulka, and earned his masters from the Institute for Media Studies. In the mid-'70s, he studied composition with Pauline Oliveros and LaMonte Young, then learned from Alvin Lucier while getting his masters in composition, completed 1982. By that time, Dreyblatt had already been directing his own music ensemble, the Orchestra of Excited Strings, for three years. In 1984, he moved to Europe where, in addition to composing, he began using texts and images in his installations and performances. He has received numerous grants and stipends including the Overbrook Foundation, and the Philip Morris Art Prize. Dreyblatt has been a guest composer at Amsterdam's STEIM, Berlin's Kunstlerhaus Bethanien and more. He has been commissioned by Ars Electronica, Podewil/US Arts Festival, as well as for his production 'Who's Who in Central & East Europe 1933' for Berlin's DAAD-Inventionen '91. Dreyblatt still resides in Berlin. In 2007, he was elected to the German Academy of Art (Akademie der Kuenste, Berlin).
For more information: http://www.dreyblatt.net/
About Austin New Music Co-op
The New Music Co-op is a community of composers and performers from the Austin area dedicated to increasing awareness and understanding of new music. Since 2001, the NMC has presented a wide range of innovative and compelling new works and created a unique environment for collaboration and the free exchange of musical ideas. Notable New Music Co-op concerts have included John Cage's Songbooks, a program featuring the extinct instruments of Luigi Russolo, Pauline Oliveros' Four Meditations for Orchestra (with the composer in attendance), a three-day series of the works of the New York School, and Terry Riley's In C. New Music Co-op members come from highly diverse backgrounds, from classical performance to electronic music to formal composition to rock bands. The group runs by consensus, and gains its strength from its members' varied experiences and interests. The New Music Co-op is a 501(c)(3) non-profit organization, and all donations to the group are tax-deductible. This project is funded in part by the City of Austin through the Cultural Arts Division and by a grant from the Texas Commission on the Arts.
Praise for New Music Co-op's 2006 performance with Arnold Dreyblatt:
"Executed flawlessly... [NMC] came to the hilt-hook, line and sinker."
- SLUG Magazine (http://www.slugmag.com/)

"A really great performace that received the standing ovation of the night. Thrilled that I got to see this."
- Baggatellen (http://www.bagatellen.com/)