Austin New Music Co-op Presents: Animist Orchestra
Twenty Musicians Performing a New Large Scale Work by
Arizona Composer & Sound Artist Jeph Jerman
Ten years in the making, Jeph Jerman's Animist Orchestra project has fascinated audiences around the US. On May 23rd, NMC is excited to bring together a large, diverse group of Austin artists to premiere the first ever commission of an Animist Orchestra piece. The twenty performers, guided by Jerman, will coax polyphonic masses of sound out of natural found objects such as dried leaves, stones, pine cones, seeds, and bleached bones. These characteristic soundscapes echo sounds of nature while maintaining a unique quality which the composer has refined over the last decade.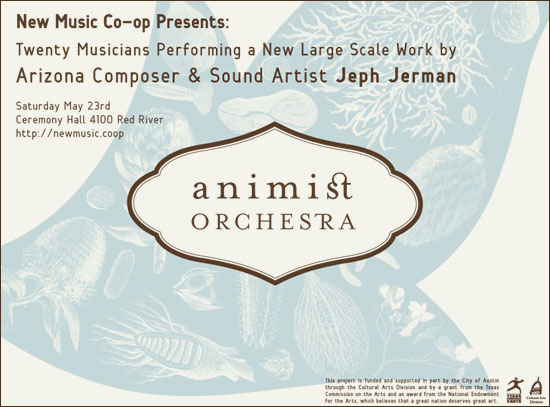 AUSTIN NEW MUSIC CO-OP PRESENTS:

Animist Orchestra
Twenty Musicians Performing a New Large Scale Work by
Arizona Composer & Sound Artist Jeph Jerman
Saturday, May 23rd, 2009 - 8PM
Ceremony Hall
4100 Red River St.
$12 students/advance and $15 at the door
Advance tickets available now at End of an Ear http://endofanear.com

In mid-April, NMC presented the works of composer Alvin Lucier. Members of our audience found themselves asking whether they had experienced a sound installation instead of a concert. On May 23rd, the co-op will continue this thread with another immersive sonic experience in our 2009 season.

Have you ever silently admired the sound of rustling leaves? Can you imagine the sound of a whole room of people quietly tumbling stones in their palms? Jeph Jerman has been steadily working in this niche of sound art for many years. This month he will guide the NMC ensemble through a series of workshops to prepare a newly commissioned piece using sounds made by objects from nature. The objects, collected from areas in Austin and Arizona, will include stones, buckeyes, animal vertebrae, dried leaves, pine cones, and more. Jerman's score directs the group in the creation of soundscapes that are both carefully wrought and spontaneous; natural and artificial.

Jerman doesn't refer to his project as "The Animist Orchestra," as that would imply there must be only one. Instead, this Orchestra exists wherever Jerman finds artists willing to open their minds and ears to the process. NMC first group for which he has specifically written a piece.

NMC has made forays into this territory before. Our 2003 presentation entitled "Rock Music" explored the sounds of stones in works by Jon Gibson, Pauline Oliveros, Christian Wolff, Charles Wood and other composers. With this next concert, NMC once again invites our audience to experience music and sound in new ways.

"Mostly they're just listening to the sounds they make and those of others; do likewise is the only advice I can give you."
- Ed Pinsent (Sound Projector) on an Animist Orchestra performance

A brief history of Animist Orchestra

The first incarnation of Jeph Jerman's project "Animist Orchestra" began working together in Summer of 1999. It grew out of his solo work giving sound performances using only natural objects. Over the next decade, Jerman refined his approach and process with a revolving group of collaborators. As in all of Jeph Jerman's work, two of the project's primary goals are: letting sounds be themselves, and listening. He writes about his aim to "remove, as much as possible, the intent to 'make music' or 'express ourselves,' and just let the sounds be." This may sound simplistic, but the difficulty lies in a tendency of the mind to wander and seek to invent things to alleviate its boredom. For example, one might begin to play in a periodic rhythm or attempt to create something interesting on purpose. Instead, Jerman gives the simple instruction to continually re-listen, to turn one's attention ever toward the sounds.

"If something is boring after two minutes, try it for four. If still boring, then eight. Then sixteen. Then thirty-two. Eventually one discovers that it is not boring at all."
- John Cage

Accolades for Jeph Jerman

"...a remarkable taste of what can happen when artist and instrument become one unified force and the sounds just happen."
- Earlabs

"With such simple motion, Jerman manages not only to capture and hold the sonic imagination of the listener, but to spark it-a rare and wonderful gift for any artist."
- Lawrence English (Signal to Noise)

About Jeph Jerman

Jeph Jerman began playing drums and percussion in bands at age 16 while at the same time forming and/or participating in ensembles whose music was decidedly less conventional. The best-known of these ensembles are Big Joey, formed in 1986, which played entirely improvised songs, and Blowhole, formed in 1991, whose modus operandi included strict improvising as well as more formally structured musical pieces. Jerman began investigating sound in a more expansive way on his own, recording and releasing work under the name "Hands To." Hands To used field recordings as source material, a common tool in Jerman's work. In 1996 Jerman relocated to Seattle, Washington, where he became involved with the local improvised music community. It was there that he feels he truly learned how to play, and more importantly, how to listen. Becoming less and less interested in conventional drumming, Jeph began finding ways to lessen control over what he was playing. He began to explore sound that "just happened" rather than sounds that were meant to be expressive. Using largely quiet sounds, Jeph began giving solo performances using only objects found in nature, a practice which continues to the present. In 1999 Jeph Jerman created Animist Orchestra, an ensemble of shifting membership founded for the purpose of making sound with only natural objects. In recent years he has begun working on sound installations, small systems that run themselves and change subtly over time. His main interest remains: what happens when we listen.

For more information: http://www.jerman.littleenjoyer.com/ Interview with Jeph Jerman as part of a series focusing on "sound art" which also features Alvin Lucier: http://emfinstitute.emf.org/articles/aldrich03/jerman.html