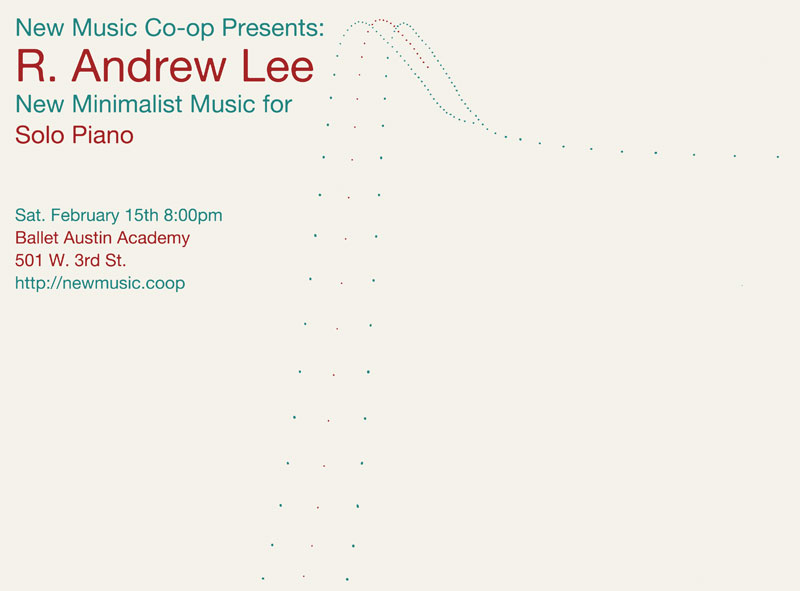 Austin New Music Co-op presents:
R. Andrew Lee: New Minimalist Music for Solo Piano
One of the foremost interpreters of minimal music brings his unique solo program to Austin -- including three U.S. premieres.
NMC Presents: New Minimalist Music for Solo Piano Featuring guest soloist R. Andrew Lee (Denver, CO) Saturday February 15th @ 8:00pm Ballet Austin Academy, Armstrong/Connelly Studio 501 W. 3rd St. Austin, TX 78701 Advance tickets available now at http://newmusiccoop.eventbrite.com/ $12 student/advance and $15 at the door
NMC is pleased to present critically acclaimed pianist R. Andrew Lee for an evening exploring the reaches of minimalist composition. Lee is an accomplished soloist whose recent releases netted him the #1 Classical Album of 2013 from Time Out NY and spots on both The New Yorker's list of Top 10 Classical Recordings and The Wire Magazine's top 50 albums of 2013.
"Minimalist" is a term frequently and, some might say, haphazardly applied. Whether referring to formal stasis, gradual transformation, or a bias toward the hypnotic, this program celebrates a broad range of musical ideas filed under this stylistic category.
While minimalism has its roots in the 1960s avant garde, it remains fertile ground for new creation. The work on this program spans 40 years, ranging from Tom Johnson's re-discovered 'Old Wine New Bottle' written in 1976 (never performed in the US) to music composed in the past year by Brent Fariss and Richard Glover. Other recently composed works on the bill include pieces by Hans Otte and Juerg Frey.
About the Program
Works on the program will include: Tom Johnson - Old Wine New Bottle Richard Glover - Logical Harmonies Brent Fariss - Pharmacy Hans Otte - The Book of Sounds, XI Pianist, Alone No. 2 - Juerg Frey
About R. Andrew Lee
Pianist R. Andrew Lee is one of the foremost interpreters of minimal music. He has been described as having "consistently impressive solo releases... asserting a vision of musical Minimalism far broader than the limited patch that abused term usually signifies" (Steve Smith, New York Times). His CD, Eva-Maria Houben: Piano Music, was chosen by Alex Ross in the New Yorker as one of the Top 10 Classical Recordings of 2013. In his tenure with the Irritable Hedgehog label, he has recorded six albums, including the first perfectly-timed recording of Tom Johnson's An Hour for Piano and the premiere recording of Dennis Johnson's 5-hour minimalist epic, which was selected by Time Out New York as the best classical recording of 2013.
Lee has dedicated himself to the performance and recording of new music. He has premiered or released the premiere recording of compositions by many composers whose work lie on the boundaries of minimal music. These include Ann Southam, Paul Epstein, Juerg Frey, Eva-Maria Houben, William Susman, Dennis Johnson, Scott Unrein, and Ryan Oldham. Upcoming projects include a recording of previously unreleased piano music by William Duckworth, and the premiere of a work by Scott Unrein that is meant to last from sunset until sunrise.
Lee has performed in a number of venues dedicated to experimental music around the world, including the STUK Arts Centre (Leuven, Belgium), Cafe OTO (London), ISSUE Project Room (New York) and Gallery345 (Toronto). He has also been invited to speak and perform at music departments known for their exploration of the avant-garde such as the University of Huddersfield and the California Institute of the Arts.
The intersection of minimal music and temporality is a primary research interest for Lee. As such, he has presented papers and lecture-recitals at several international conferences, most recently the Fourth International Conference on Minimalist Music (California State University, Long Beach) and Time's Excesses and Eccentricities in Music, Literature and Art (Universite de Caen Basse- Normandie). His writing has been published by Divergence Press. Lee also serves as a contributing editor for I CARE IF YOU LISTEN.
Lee currently teaches at Regis University in Denver, Colorado, and was most recently Artist-in- Residence at Avila University. He also serves as faculty for the nief-norf summer music festival. Lee received his DMA in Piano Performance from the University of Missouri-Kansas City Conservatory of Music, where he studied under the direction of Prof. John McIntyre. He has also earned a masters in piano performance from UMKC and a bachelors in piano performance from Truman State University, where he studied under Dr. David McKamie.
For more information: http://randrewlee.com/
This project is funded and supported in part by the City of Austin through the Economic Development Department/Cultural Arts Division believing an investment in the Arts is an investment in Austin's future. Visit Austin at NowPlayingAustin.com.