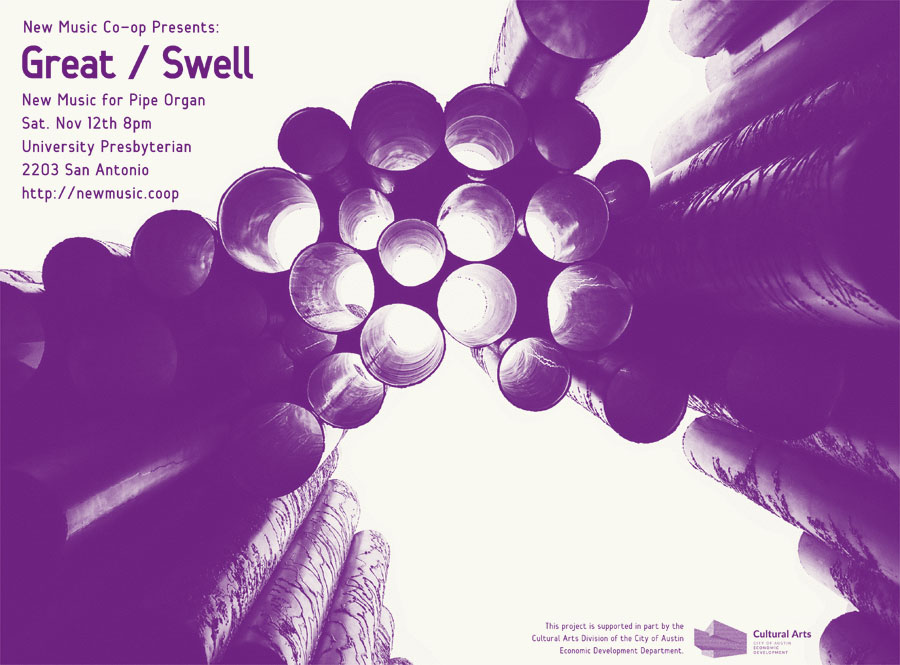 Austin New Music Co-op Presents: Great / Swell - New Music for Pipe Organ
NMC coaxes adventurous sounds from an ancient instrument with works by György Ligeti, Bill Thompson (UK) and local composers Fariss, Stoltz and Weller.
NMC Presents: Great / Swell
New Music for Pipe Organ
Saturday Nov. 12th 8pm
University Presbyterian Church
2203 San Antonio St. Austin, TX 78705
Advance tickets available now at http://greatswell.eventbrite.com
$10 student/advance and $12 at the door
Parking available in the UT Co-op parking garage at 2214 San Antonio. Note: The UT home game will be done early and should not cause parking or traffic issues.
With origins dating back to the 3rd century BC in Ancient Greece, the pipe organ is quite possibly western music's oldest instrument still in use. The monumental pipes and earth shaking sounds are part of the architecture of art music and unquestionably entangled with its evolution.
NMC is excited to present five works that show a more modern side of the instrument. The program includes György Ligeti's rarely performed piece for solo organ "Volumina" (1966) as well as the US premiere of "Overland" for organ, bagpipes, contrabass and live electronics by Bill Thompson (UK). NMC Members Brent Fariss, Andrew Stoltz and Travis Weller will also be contributing works. Our accomplished organist for the concert, Storm Knien, will be (literally) pulling out the stops.
The name of our concert, "Great / Swell," comes from the names of the two most common keyboards (also called manuals) of the pipe organ console.
About the Program
Key to our program is György Ligeti's "Volumina" (1966) for solo organ. Volumina came shortly after Ligeti's watershed work "Atmospheres" for orchestra (1961) in which he began exploring sound in a new way. Ligeti's technique of composing with what he called "moveable clusters" began with in 1956 before the composer fled Hungary. After arriving in Cologne (where for a time he stayed with Stockhausen), Ligeti became exposed to the new musical thinking of Stockhausen and Boulez, and started working in the electronic music studio. Famously, Volumina, which begins with all the stops pulled out and every key of one manual depressed, caused the motor of the Göteborg organ to catch fire during a practice run. The church council at Bremen, where the premiere was scheduled to take place, cancelled the live performance when they heard about the fire in the Göteborg organ.
Also on the program is guest UK composer Bill Thompson's work "Overland" for organ, bagpipes, contrabass and live electronics. Three NMC composers are contributing works: Brent Fariss' piece for solo organ, "Like a voice speaking in an empty room"; Andrew Stoltz' piece for organ, french horn, flute, and tuba; and Travis Weller's "Brontosaurus" for organ and trombone (featuring Steve Parker).
About Austin New Music Co-op
New Music Co-op is a community of composers and performers from the Austin area dedicated to promoting awareness and understanding of new music. Since 2001 NMC has presented almost 50 concerts featuring close to 200 new works, many of them premieres. Notable New Music Co-op concerts have included two collaborations with Ellen Fullman and her Long String Instrument, the first complete US performance of Cornelius Cardew's seven-hour epic, The Great Learning, a commission of a program-length work by Berlin-based composer Arnold Dreyblatt, a realization of John Cage's Song Books, music for the extinct instruments of Luigi Russolo, Pauline Oliveros' Four Meditations for Orchestra (with the composer in attendance), and a three-day series of the works of the New York School. The Co-op was named "Outstanding Classical Ensemble" for 2011-2012 by the Austin Critics' Table. The New Music Co-op is a 501(c)(3) non-profit organization, and all donations to the group are tax-deductible.
This project is supported in part by the Cultural Arts Division of the City of Austin Economic Development Department.