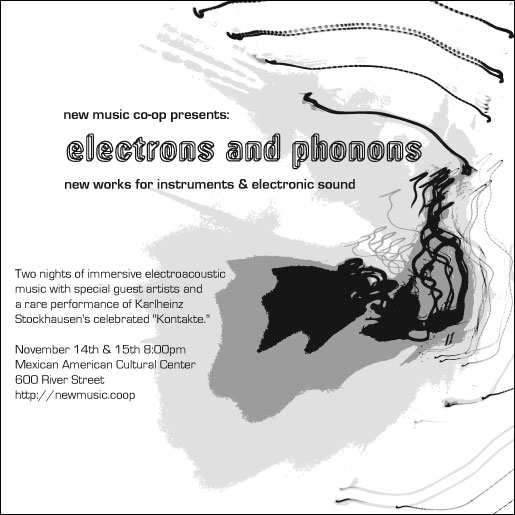 Electrons & Phonons 2008
On Friday & Saturday November 14th & 15th NMC will launch its third annual fusing of instruments and voice with and cutting-edge (and classic) electronic technology. This year's presentation features twice as much great music as in years past with special guest marimbist Nathaniel Bartlett and a rare performance of Karlheinz Stockhausen's four channel electronic work from 1960 "Kontakte."
AUSTIN NEW MUSIC CO-OP PRESENTS:
Third Annual "Electrons and Phonons" Concert
November 14 & 15, 2008 - 8PM
Mexican American Cultural Center
600 River Street
$12 students/advance and $15 at door
Advance tickets available at End of an Ear http://endofanear.com
Both Nights: $20 students/advance and $25 if bought together

The Austin New Music Co-op presents Electrons and Phonons, an annual concert showcasing compositions of electronic and electro-acoustic music. Now entering its third year, the concert has been expanded to two evenings with a different program and a very special showcase performance each night.
On Friday night we will present Karlheinz Stockhausen's Kontakte. This is a rare opportunity to hear this ground breaking work in its original four-channel format. Created in 1959-60, Kontakte is a masterpiece of twentieth century electronic music. Stockhausen, who passed away less than a year ago, was widely acknowledged by critics as one of the most important composers of the twentieth and early twenty-first centuries.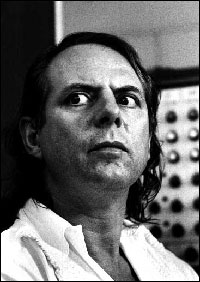 "Kontakte is the epitome of Stockhausen's pioneering "moment form," characterized by long periods of inactivity broken by sudden changes. The prepared tape used in the work consists of a variety of metallic effects, some sped up to create radically different sounds and timbres. Probably Stockhausen's most famous work, Kontakte has been performed in two versions, one with four-channel tape and another with four-channel tape with added piano and percussion." - John Bush, AMG
"It was easily the most thrilling, stimulating, and just plain fun musical event we have attended in a very, very long time." (http://sfscene.blogspot.com/2008/03/event-review-stockhausens-kontakte-at.html)
On Saturday night we present special guest performer Nathaniel Bartlett from Madison, Wisconsin. Bartlett is an accomplished percussionist, but his work is no typical solo marimba repertoire. Bartlett brings the instrument into the realm of the unreal through the use of advanced digital sound processing and 3D audio projection. A custom dual-display computer monitor has replaced the traditional music stand, allowing the score to change dynamically in response to the parameters of the electronics. Ultra-high fidelity sound generation in 8 channels will immerse listeners in a sound world more vivid than that of a theatre presentation, the auditory equivalent of an IMAX movie versus a home television set. Among other works, he will be performing the recently commissioned new work "Anchialine" from Co-op member Travis Weller. (http://www.nathanielbartlett.com)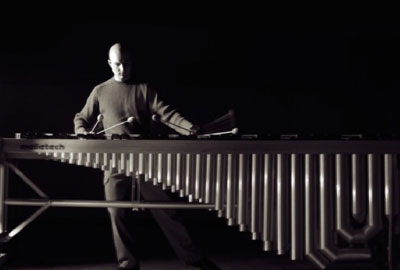 Accolades for Bartlett's recent CD release:
"...creates a vivid and mysterious soundscape that seamlessly integrates the acoustic and electronic worlds." (All Music Guide)
"The unique combination of clarity and resonance of the marimba is lovingly explored in all of these works, and Bartlett makes the most of each." (American Record Guide)
Rounding out the program each evening will be new compositions from other New Music Co-op members. Andrew Stoltz plays an ethereal piece on hammered guitar with electronics; Nick Hennies performs on amplified maracas; Bill Bridges creates unique sounds on a homemade instrument; Keith Manlove and Brandon Young play with computer, accordion and video; and William Meadows performs an entire piece with a Wacom graphics tablet. Also featured on the concert are works by Josh Ronsen, Ethan Green, Greg Headley, Christopher Petkus and Gregory Cornelius.
The venue this year is the Mexican American Cultural Center, a beautiful new facility on Lady Bird Lake. The MACC is a undiscovered gem in downtown Austin. (http://www.ci.austin.tx.us/macc)
This is the most exciting Electrons and Phonons yet. Don't miss the best showcase for electronic and electro-acoustic music in Austin. About Austin New Music Co-op