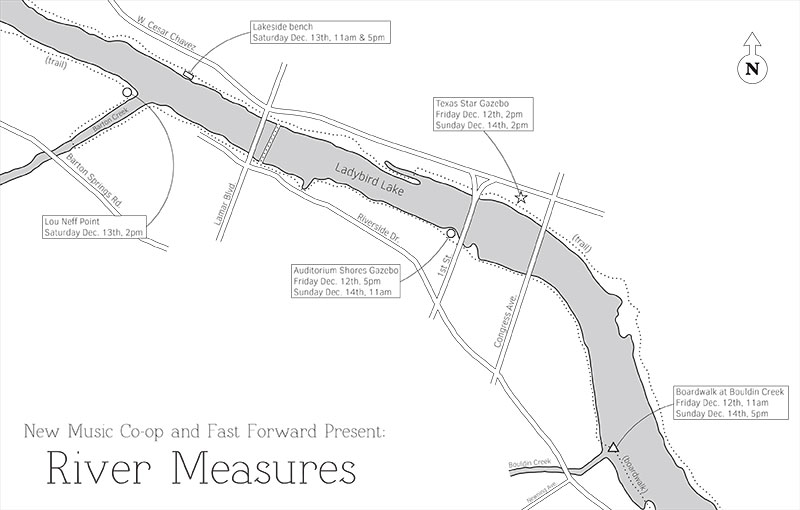 New Music Co-op & Fast Forward Present: River Measures
Canadian cellist Leanne Zacharias returns to Austin to perform an epic cycle of 9 one hour solo performances tracing a path along Austin's lakeside trails.
Various Locations along Ladybird Lake (see map for locations)
Daily at 11am, 2pm, and 5pm
Friday Dec 12th
Saturday Dec 13th
Sunday Dec 14th
Free admission to all programs
New Music Co-op & Fast Forward are excited to present "River Measures" - a new site-specific performance by Canadian cellist Leanne Zacharias. Unfolding over the course of three days, Zacharias will engage in a daily practice of three one hour solo sets for a total of nine unique performances. Beginning on Friday December 12th, she will travel upstream along the shores of Ladybird Lake from East to West. Her Saturday afternoon performance will take place near the mouth of Barton Creek, after which she will retrace her path downstream, closing the performance Sunday evening at the site of the first performance on the newly constructed boardwalk.
All nine recitals share a fundamental structure, but each will be musically unique. Included in the programs will be works by John Cage, Michael Oesterle, Andrew Norman, John Corigliano, J.S. Bach, and Emily Doolittle. Each work offers a unique perspective of time and measurement based on natural cycles, repetition and variation.
This program is part of NMC's "Sounding City" series, which is concerned with the role of "place" in new music performance.
Download a printable PDF of the performance map here.
Times and places for the performances:
FRIDAY:
11:00am @ Boardwalk near mouth of Bouldin Creek
2:00pm @ Texas Star Gazebo near Cesar Chavez and Colorado St.
5:00pm @ Gazebo near 1st on Auditorium Shores
SATURDAY:
11:00am @ North shore hike and bike just west of Lamar Blvd.
2:00pm @ Lou Neff Point near the mouth of Barton Creek
5:00pm @ North shore hike and bike just west of Lamar Blvd.
SUNDAY:
11:00am @ Gazebo near 1st on Auditorium Shores
2:00pm @ Texas Star Gazebo near Cesar Chavez and Colorado St.
5:00pm @ Boardwalk near mouth of Bouldin Creek
In case of rain, performances will be moved under the 1st St. bridge on the north shore. Follow NMC on Twitter @newmusiccoop for updates about rain locations.
About Leanne Zacharias
Leanne Zacharias is a dynamic cellist, educator and interdisciplinary artist known for innovative collaborations with artists of all stripes. Her project Music for Spaces re-imagines concerts, public and natural space with sound, and recent work includes CityWide: simultaneous recitals by 50 cellists presented by the International Cello Festival of Canada, Sonus Loci: a sound installation on ice, selected by Winnipeg's 2013 Warming Huts Art & Architecture competition, release of Rand Steiger's Elusive Peace for drumset and cello on New World Records, recordings with John K. Samson and The Mountain Goats, and a Venice Biennale performance with songwriter Christine Fellows, in support of artist Shary Boyle, presented by the National Gallery of Canada. No stranger to Austin, she received a 'Best Performer' nomination from the Austin Critics Table for Concerto Laguna, in which she played from a rowboat in Travis Weller's site-specific concerto, presented by the Austin Museum of Art. She also appeared in SoundSpace at the Blanton Museum last September. On faculty at Brandon University's School of Music in Manitoba since 2008, she performs and teaches widely across Canada, leads the Correction Line Ensemble and has participated in the Banff Research in Culture workshop, Timeforms at McGill University, and Project Anywhere at Parsons (The New School, NYC).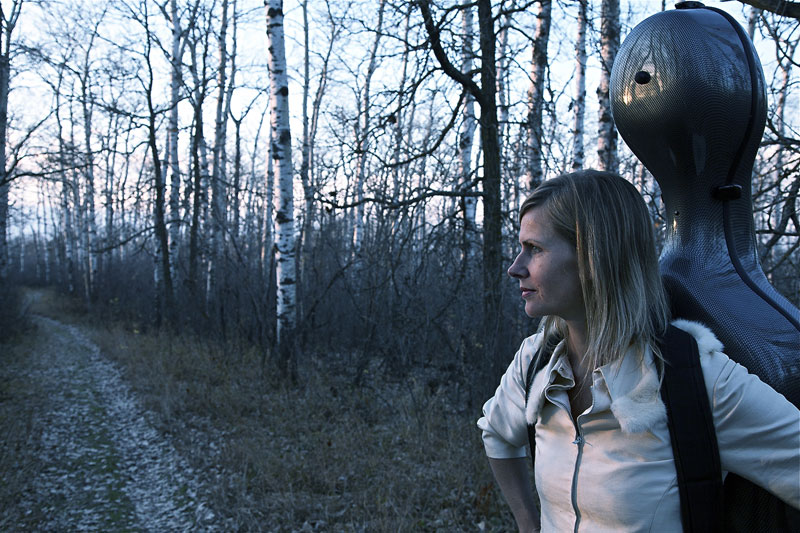 High resolution photo available here.
About Austin New Music Co-op
New Music Co-op is a community of composers and performers from the Austin area dedicated to promoting awareness and understanding of new music. Since 2001 NMC has presented almost 50 concerts featuring close to 200 new works, many of them premieres. Notable New Music Co-op concerts have included two collaborations with Ellen Fullman and her Long String Instrument, the first complete US performance of Cornelius Cardew's seven-hour epic, The Great Learning, a commission of a program-length work by Berlin-based composer Arnold Dreyblatt, a realization of John Cage's Song Books, music for the extinct instruments of Luigi Russolo, Pauline Oliveros' Four Meditations for Orchestra (with the composer in attendance), and a three-day series of the works of the New York School. The Co-op was named "Outstanding Classical Ensemble" for 2011-2012 by the Austin Critics' Table. The New Music Co-op is a 501(c)(3) non-profit organization, and all donations to the group are tax-deductible.
This project is supported in part by the Cultural Arts Division of the City of Austin Economic Development Department.